How to choose right table lamp for your home?
You may already realize that some tiny details change can arise a big difference in home decoration. When the style, theme, and color of a room already set down, we can add some lights to set the mood and ambiance. Lighting can be a factor to make your home inviting retreat, cheerful, and exciting hub.
When it comes to home decoration trendy light, the stunning chandeliers may appear to your brain. But do not underestimate the charm of a delicate and elegant table lamp. In the following page, we are going to have a look at how to choose the suitable table lamps.
Make a clear plan before purchase
You need to decide which spots you are going to place the table lamp, and have a layout of the height of the lamp you needed, the distance from your bed, and the average height of the shade. It is hastily to buy any lamp to fit the bedroom or living room before making any measurement. Often the lamp may end up with either too short or over long so that define a clear goal is necessary before shopping.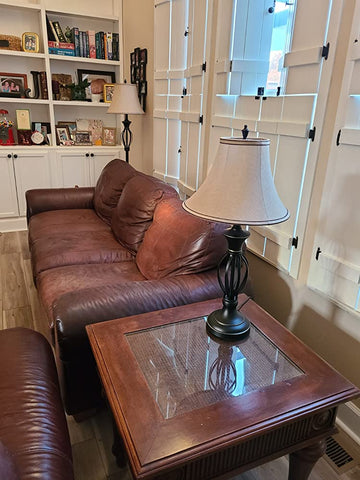 Firstly, we need to define a base measurement. And the way is easy to operate, just sit next to the place you are going to set a lamp. The base measurement is the distance from the surface to your eye level. After that, we can count the average shade height, divide the base measurement by three. And the estimated lamp height is the base measurement height plus the average shade height. For example, suppose the base measurement height is 15", then the estimated shade height would be 5", and the lamp height is probably 5"+15"=20".
Pay attention to the shade style
Except for considering the style of the lampshade, you may also need to select a lamp with a shade that is matching with the use of the lamp. If you are going to place the lamp in the living room and turn it on when TV on, the dark color shade or an opaque shade would be a good choice form the point of minimizing the lighting glare. If you are turning it on while you are reading, a semi-opaque shade spread a warm glow light which is also permissible for general room lighting.